Fish And Chips Greek Style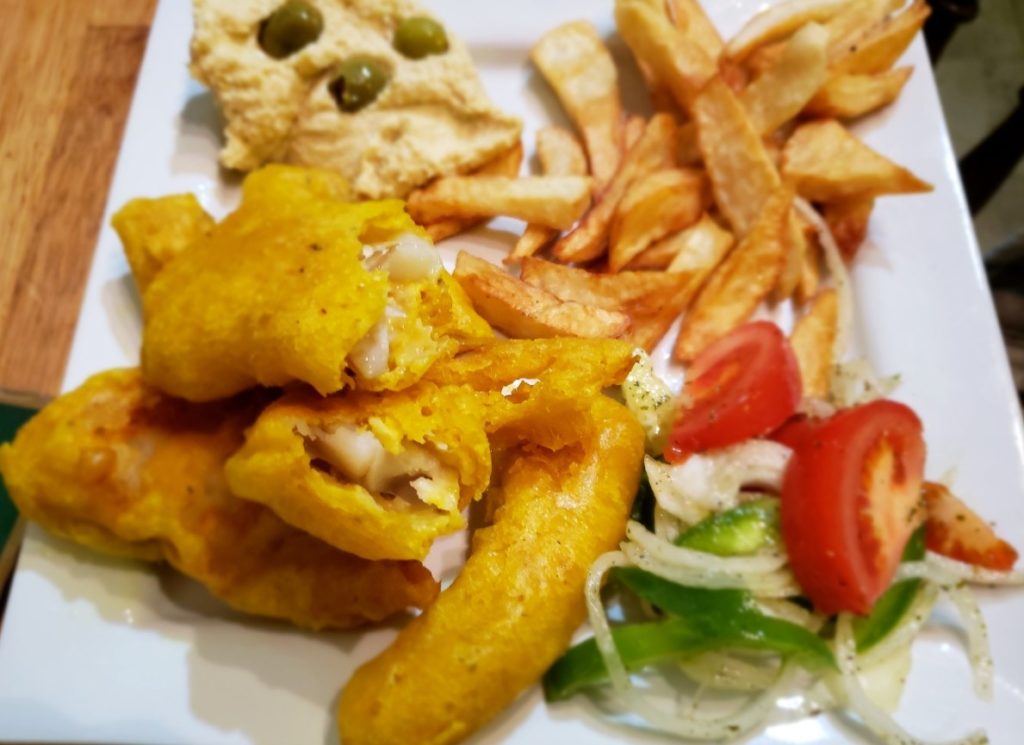 Too much meat lately and a Greek I know has definitely missed her fish!
So, nothing better than 'fish and chips' for dinner tonight.
In Greece we use cod but Pollock worked just fine as well!
What we used:
500 gr all purpose flour (and a bit extra for frying)
500 ml water at room temperature
330 ml beer at room temperature
1 tbs dry yeast
2 pinches of sugar
1 pinch of salt
1 tbs Kirian Greek Thyme
1 tsp turmeric
1 kg pollock fillets
Vegetable oil for frying
What we did:
In a big bowl, we put the water, the beer, the yeast, and our sugar. We stirred well and left the mixture rest for 15 minutes.
In the same bowl, we added the salt, turmeric, our thyme, and the flour in doses while stirring with a whisk. We whisked until all our ingredients were combined.
We covered the bowl with plastic film and let it rest for 2 hours in room temperature.
When the time came we dried our fish with kitchen paper to remove excess wetness.
We put on medium to high heat a frying pan with vegetable oil.
We tossed the fish in flour, dipped in our batter, gave it a bit of shake to remove excess batter and then right into the frying pan.
3 minutes each side and taaadaaaa!!
Yummy dinner ready!
Traditionally in Greece this dish is accompanied by fries and "skordalia"(garlic sauce) but for tonight we had this amazing homemade extra garlicky houmous which was perfect with the fish.
We definitely enjoyed and we hope you do as well!